WHO'S RUNNNING THE ASYLUM?
I wanted to build a dock and was informed that cribs are no longer legal. I was surprised at this, because there's no more natural part of our lake environment than trees and rocks. I couldn't imagine any possible way they could be harmful.
Below please find 4 installments in this saga.
1. My back-and-forth with the Quebec Ministry of the Environment
2. What Ontario thinks of cribs
3. What Canada thinks of cribs
4. What the USA Environmental Protection Association thinks of cribs
Enjoy!
***
EMAILS WITH THE QUEBEC MINISTRY OF THE ENVIRONMENT
ME
Could you please direct me to a scientific source showing the adverse effects of using cribs made of rocks and logs in a healthy lake?
THEM
In order to answer your demand dated July 13th, we would like to inform you that your demand has been transferred to our regional office in Montréal, who will answer you as soon as possible.
ME
Thank you for your email. My question doesn't depend on the region. My question is about the science used by MDDEFP. Tree trunks and rocks are a natural part of the Quebec aquatic environment. Tree trunks and rocks are the traditional materials used in Quebec to make cribs as foundation for docks and boathouses.
Quebec law says that docks and boathouses must be supported by metal pilings, not by cribs. Pilings are more expensive, require heavy machinery, and introduce metal into the water. Cribs are 100% natural, and a handyman can make a crib by himself, without machinery.
I notice the bottom of your email says, "Pensons a l'environnement!". That is what I am doing. I'm writing you to find out the scientific basis for this law. I am asking about science, and the answer should be in a published academic article or research study. Please send my request to a MDDEFP scientist who can tell me where to find the scientific study on which the law is based.
THEM
You indicate in your email that Quebec law requires the platforms be supported on metal pilings. For your information, permission to build a dock by a citizen does not fall within the jurisdiction of MDDEFP but the municipality. In the case of a citizen who wants to set up a dock, MDDEFP acts only as of the water area of the state manager if the platform is implemented on a stream of public property.
[E.G. Big lakes like Louisa, yes, smaller lakes like Dunany, no.]
ME
I'm sorry if I was not clear. I'm not asking a legal question, but a scientific question. I understand the hypothesis that a crib made of rocks and logs might negatively impact aquatic life. What I'm trying to learn is the science that supports the hypothesis. I presume some biologists have conducted experiments, and their papers have been published in journals, but I've had no success in researching the matter for myself. Is it possible for you to help direct me to the relevant research?
ME AGAIN
I sent you an email on July 24 and I have not received a response from you. I am writing to find out why. Have you not yet had time to do research? Are you not the person I should ask? Does the lack of response means that scientific research I am looking for does not exist? Please let me know if you are able to help me, and if not, where should I look.
THEM
In response to your email of 2 August for the construction of a dock on crib, we wish to inform you that your application has been forwarded to the Water Policy Department of the Ministry.
ME (GOING THROUGH ACCESS TO INFORMATION)
I tried to get information from MDDEFP and nobody has provided the documents that I requested. I hereby make a formal request through access to information.
I am writing to find the basis for the decision MDDEFP (2.3.2 Licence of Occupation – Art. 10, Regulations), which prevents citizens from the construction of a dock on crib (crib dock). I presume that this law is based on science, and I would like you to send scientific or other justification for this law to me. To save time in the process, there is no reason for you to tell me that the cribs cause loss of fish and wildlife habitat unless you send me the scientific research that supports this type of speculation. If this kind of unproven speculation is the only basis of the law, please confirm that the law has no scientific basis.
THEM
We received your request and will reply within 20 days.
THEM
As allowed by the law, we need an additional delay of 10 days.
THEM
After verification, we have been informed that the government doesn't have one single document providing scientific support for its policy on protection of waterways and flood plains.
"Apres verification, nous sommes informes que le Ministere ne detient aucun document portant sur la justification scientifique de la Politique de protection des rives, du littoral et des plaines inondables."
(For a full copy of the letter see the article called "Don't Read This Post".)
****
ONTARIO: LOG CRIBS FOR DOCKS
Government of Ontario, Ministry of Natural Resources
DO I NEED A PERMIT?
A Work Permit is Not required for the following:
- crib docks where the crib or combination of cribs (i.e. footprint on lake bottom) occupies less than 15 sq m (160 sq ft), and clean rocks from dry land are used
ONTARIO: LOG CRIBS FOR IMPROVING FISH HABITAT
(Canadian Wildlife Service & Ontario Ministry of Natural Resources)
Log cribs are usually made of green cedar logs fastened together in a crib shape and held down with rocks or concrete blocks. Log cribs are often placed on the ice during the winter months and left to drop to the bottom during spring breakup. They work best in inland lakes. However, they can interfere with navigation if they're not placed in a suitable spot.
****
CANADA: CRIBS MADE OF LOGS AND ROCKS
Fisheries and Oceans Canada www.dfo-mpo.gc.ca
"Where cribs are built from timbers and are filled with rock, it is best if the crib is open-faced. Open-faced cribs without solid planking provide fish and other aquatic organisms spaces to hide from predators. It is best if cribs are placed at least 2 metres out from the average annual high-water mark."
"Docks and boathouses are acceptable if there is bridging between cribs or poles that allows water to circulate. Vertical planking is not recommended along the sides of a dock because it can restrict water movement.
"If your project requires rocks, they must be clean and free of soil. Rocks must not be taken from the lake or river bottom, or the shoreline. Removal of rocks from these areas could destroy fish habitat and result in charges under the Fisheries Act.
"If your dock requires a concrete abutment, this should be located entirely on the upland property, above the average annual high-water mark.
"If you are planning to use pressure treated lumber for decking, all cutting, end sealing, staining, etc. should be done well back from the water. The wood should be completely dry before being attached to the dock structure. Also, never use creosote treated wood in or near water. These practices will help to reduce the amount of contaminants released into the waterbody. Use untreated cedar or hemlock timbers for structures below the average annual high-water mark. When submerged, these timbers will last a lifetime.
****
PLACING LOG CRIBS IN LAKES FOR IMPROVING FISH HABITAT
Artificial Structures for Fish Cover
Environmental Protection Agency, April 2004
Structural features are important in helping to maintain diverse, healthy lake ecosystems and in maintaining gamefish and non-gamefish populations. Structure provides places for fish to hide from predators, shade from the hot summer sun, nesting and spawning habitat, and places for food organisms to live and grow.
Fish like to hide – especially when bigger fish and other predators are seeking a meal. Without hiding places, populations of young fish and the smaller fish species are at risk of being significantly reduced by predation. Ultimately, this can lead to an imbalanced fish population and reduction in gamefish yields.
Fish also like to keep cool. That's why you'll often see fish seeking refuge from the hot summer sun under docks, amongst rock outcroppings, and within lily beds.
And of course fish need to eat and reproduce. Algae and other organisms (including bacteria, zooplankton, and aquatic insects), which are important fish foods, use physical and biological structure as growth substrates or habitat areas. Depending on the fish species, physical and biological features are also used for nesting and spawning.
Log cribs filled with rocks are complex structures. That is, they contain a high number of surfaces, holes, and hiding places to maximize areas available for hiding and food growth. They are heavy enough to withstand waves and shifting currents, and are made of non-toxic local natural materials that will not significantly deteriorate in a short time.
Although log cribs are typically used to support docks, the Illinois Environmental Protection Agency also suggests placing log cribs at other places in lakes as a form of inexpensive long-term habitat enhancement. Care should be taken to not place log cribs underwater where they are a danger to swimmers, boaters, or skiers; that is, away from swimming areas and boating lanes, and deep enough to allow safe boat passage (at least 4 feet below the water surface.) It also may be wise to mark the location with a buoy or other highly visible object.
****
(Any bureaucrats reading this, at any level of government, please note, there's a comment section wide open for you to use. If you disagree with anything here, leave a reply. We'll be happy to publish it. If you don't leave a reply, we have the right to believe you can't find anything wrong in this article.)
****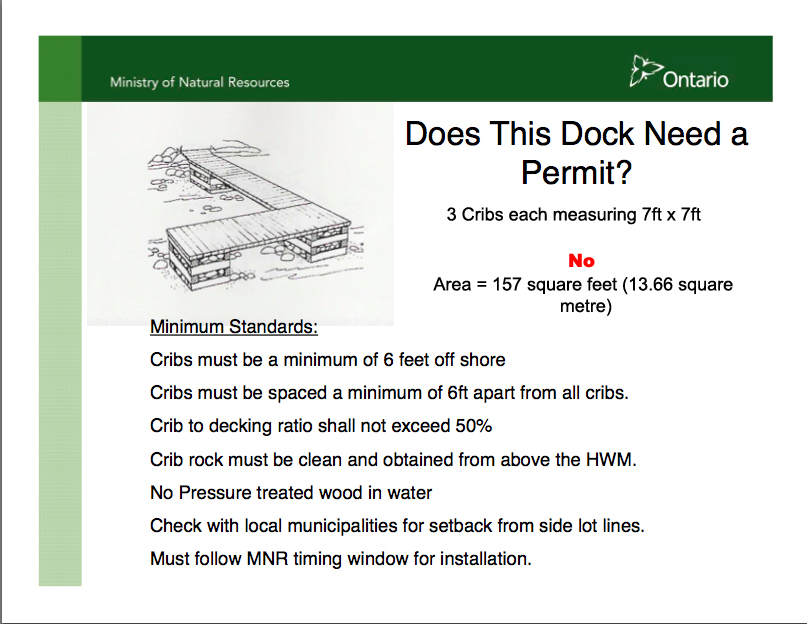 Stay tuned and check back often. Lots of news coming here in the next few weeks.